HPLC Columns
Product Announcement from Miles Scientific (Analtech)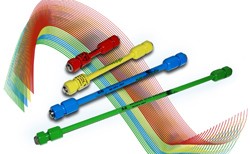 Our HPLC Columns utilize propietary bonding technologies that result in bonded phase coverages that approach 100%.
Our methods of bonding allow the density of the functional ligands to be controlled with appropriate spacer molecules, a novel procedure that ensures TOTAL COVERAGE and highly cross-linked polysiloxane under layer structure.
Founded in 1961, Analtech, Inc. is the only U.S.-based manufacturer of Thin Layer Chromatography Plates. The Company has expanded its offerings to include HPLC columns, SPE cartridges and other chromatography related products. With a network of distributors in more than 40 countries and six continents, Analtech serves a global community in food safety, forensic science, pharmaceutical development, environmental testing, industry, and agriculture.
---