Speciality Coatings and Services
Product Announcement from ANALYZE Inc.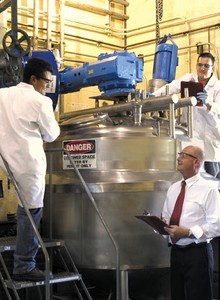 ANALYZE provides a variety of services related to organic coatings:
Problem Solving
Deformulation
Tailored Coating Development
Specialty Coating Manufacturing
If a coating fails in an existing application, the determination of the root cause of this failure provides the basis needed to implement a remedy. A combination of visual/microscopic inspection, selected materials characterization methods, performance tests and common sense based on 40+ years of individual experience have been employed to solve client problems.
Both thermoplastic and thermoset coatings can be analyzed for their component parts by a variety of microscopic, chromatographic, spectroscopic, thermal and mechanical analytical methods.. The depth of the analysis depends upon how the results will be employed. A generic identification of the coating family is a far simpler question to answer than the establishment of a 'clone' suitable for application to a medical device used with humans. Sourcing, reformulation and comparison to the target coating is often done to obtain a more accurate description of the coating than can be afforded by analytical deformulation alone.
If commercially available coatings cannot fill the needs of a particular application, a custom coating can be developed which is tailored to the application. ANALYZE has experience developing polymeric coatings for diverse applications and industry segments.
As an ISO 9001:2008 registered company, we manufacture specialty organic solvent and water based coatings in 5-gal to 500-gal batch sizes.
Please contact Dr. Steve Valenty to discuss your coating needs: svalenty@analyzeinc.com.
---