Custom Industrial Coatings
Product Announcement from ANALYZE Inc.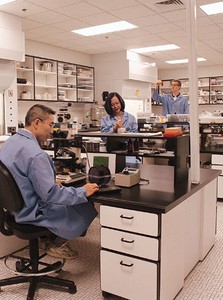 ANALYZE has been involved with the development of the following products:
Copolymer PVC Plating Resist
UV Curable Acrylic and Epoxy Coatings
Low VOC Solder Mask Stripper
Laminating Adhesives for Flexible Circuits
Sublimation Dye Image Acceptor Coating for Full-Color Decoration of Ceramic Articles
Silicone Polycarbonate Copolymers for Medical Sensors
Low Cost Adhesive for Pest Control
Fingernail Cosmetics
Skin Lotions
Breath Freshener
Custom Fragrances
Odor Masking Products
Abrasion Resistant Coatings for Polycarbonate
Silicone Polyimide Copolymers for Electronics
Detergent Builders
Water Softener Products
Dye Set for Temporary Tattoos
Low VOC and Fast Drying Alkyd Coatings
Water Based Latex Coatings
Rapid Cure Acetylene Coatings and Adhesives

INNOVATION

The spirit of invention is the innate human impulse that drives social and economic progress. Innovation is viewed as one of the key drivers for sustained economic growth in today's global economy. Businesses must constantly innovate in order to bring new products to market and maintain their competitive edge.

ANALYZE will invent custom tailored products that help solve manufacturing problems, achieve competitive advantages and expand product lines.
---