Unknown Chemical Compound Identification
Service Detail from ANALYZE Inc.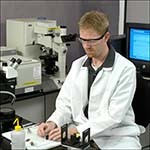 Analyze can identify unknown chemical compounds and materials; including the following:
Starting Point For Factory Production Problem and Field Failure Analyses
Development of New Compounds and Materials
Health Concerns in Pharmaceutical, Food and Consumer Products
Patent Interference
Competitive Product Analysis
Identify and Eliminate Source of Contamination
Verification of MSDS Information to Allow Product to be Safely Handled in a Manufacturing Environment
ANALYZE assumes full responsibility for developing the materials characterization strategy, obtaining the analytical information and interpreting the raw data that results in the identification of the unknown substance. ANALYZE provides sufficient information to fill the client's needs. In some cases, it is enough to have a generic classification of the material while in other instances the information must be in sufficient detail to allow sourcing of the same or equivalent material from a supplier.
---