Chemical Product Development ...Custom Specialty
Service Detail from ANALYZE Inc.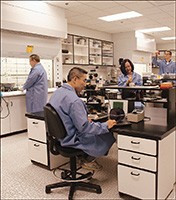 ANALYZE creates new corporate assets and intellectual property. New products and materials (created from the molecule up, if necessary) add strategic value to the depth and breadth of our customer's key product lines. New product R&D and modifications to existing products are done in a timely manner to facilitate rapid returns on investment.
The development of new products is done in dedicated laboratories equipped with fume hoods supported by a clean room, oven room and specialty chemical stockroom.
Chemical reactions; e.g. monomer synthesis and polymerization, are run in glassware ranging from 25 milli-liters to 12 1iters.
The purity of starting materials, the progress of a chemical reaction and the structure of the final product are determined using state-of-the-art instrumentation to separate mixtures by chromatography, identify compounds by spectroscopy and determine material characteristics as a function of temperature.
Thermosetting formulations are cured in recirculating air and vacuum ovens. A belt driven UV cure apparatus and radiometer are used for light-initiated reactions.
The lab formulation area is equipped with a variety of s.s. vessels and mixing equipment ranging up to 10 gallon capacity to scale-up new formulations for more extensive testing and customer evaluation. The mixers include standard variable speed mixing motors use a variety of propeller, pumping and high shear blades and two different Silverson high shear dispersing head mixers. A ball mill and three-roll mill are also available. Heavy formulations are compounded with a 5-gal Groen 'dough' mixer and a sealed, jacketed 2-gal Ross double planetary mixer with a dedicated ram discharge system.
---