Die Springs
Product Announcement from Anchor Lamina America, Inc.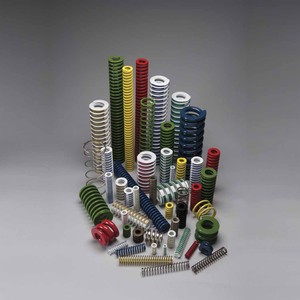 Anchor Danly DieMax springs are the most specified springs by metal stampers. Generating superior performance and reliability, selecting DieMax springs allows customers to improve the reliability and performance of their dies. The exceptional quality of these springs has made them popular for a wide variety of applications including general tool work such as jigs and fixtures, as well as in industrial clutches, brakes and as components in farm machinery and aircraft mechanisms. Springs are available from stock or custom product can be designed to meet specific requirements.
Anchor Danly die springs are made in the USA to ISO 9001:2008 quality standards and all meet NAAMS standards. Available in both inch and metric sizes, DieMax springs are offered in a range of lengths, diameters, load classifications, solid heights, rates, coatings and tolerances.
Manufactured from Chromium Silicon alloy, high tensile strength steel, the optimal rectangular wire design produces the maximum amount of force within a minimal amount of space.
JIS Springs, Custom Heavy Duty Springs, Disc Springs, Utility Springs, Spring Cages and Retainers are also available.
---