Die and Mold Components
Service Detail from Anchor Lamina America, Inc.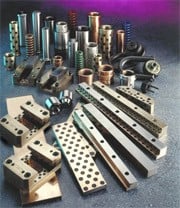 LAMINA COMPONENTS manufactures and distributes a complete line of commonly used die set, mold, and tooling components. Lamina manufactured die components include pins, bushings, die cams, die springs, wear plates, gibs, and keeper blocks. Lamina components are available at all Anchor Lamina locations and at over 500 other distributors throughout North America. Anchor Lamina GmbH in Germany distributes Lamina die components throughout Europe.
Pins and Bushings
Guide and Wear Components
Die Cams
Die Springs and Pressure Control Devices
Misc. Components
NAAMS Components
Special Products
---