Ring gears, large gears, spiral bevel gears
Featured Product from Andantex USA, Inc.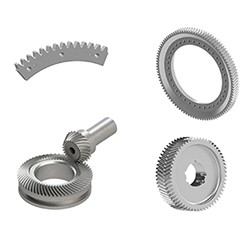 Made to Order Large Gears
Andantex's partner WMH Herion develops and manufactures customized solutions in the field of drive technology for more than 120 years. We´d like to offer our long experience and the profound, extensive know-how in the field of gear technology and drive elements to our customers - especially when complex gearing parts are required for customized applications.
Features:
Ring Gears
Straight or helical teeth
Parts in ground and milled quality
Materials, hardening or surface coating according to customer requirements
Gear Segments
Teeth module 6 & higher
Special designs possible
Spiral Bevel Gears
Tooth module 6 & higher; special modules also possible
Ready to be installed
Bevel Gears
Straight and helical teeth, crowned tooth flanks
Teeth module 6 & higher; special modules also possible
Herringbone Gears
Chain Sprockets & Plate Wheels
Tooth form to suit any standard and non-standard chains
Pitch from 4mm; special pitches also possible
Applications:
Machine Tools
New Product: Large Gears
Large, made to order gearing solutions are now available from Andantex, USA, Inc. Ring gears, gear segments, spiral bevel and herringbone gears provide rotary motion to large turntables and heavy duty rotating devices. These gears can be made to customers drawing or designed to meet application requirements.
Ring gears and gear segments are the cousin to the industry proven Andantex racks & pinions. These components help provide rotary motion through 360? or reversing rotation through any angle. Ring gears can be provided complete with straight or helical teeth with modules > 5 and diameters up to 2000 mm (79") in milled (~AGMA 8) or ground quality (~AGMA 11). Gear segments can be for a small angle of rotation or joined together to make a complete ring gear of diameters up to 30 meters (100 feet).
Straight and Spiral Bevel gears, Herringbone gears, and special tooth form sprockets up to 2 meters (79") in diameter with modules> 5 are manufactured with maximum weight up to 5000 Kg.(11,000 Lbs.) and maximum height of 600 mm (24 in.)
A highly flexible production system linked to CAD/CAM and 5-axis machining insure a cost-effective solution for large size custom gearing.
Components are made to customer print or engineered to meet the application. Complete systems including ring gear/segment, precision reducer, pinion, and automatic lubrication are available from Andantex.