2-Speed spindle gearbox
Featured Product from Andantex USA, Inc.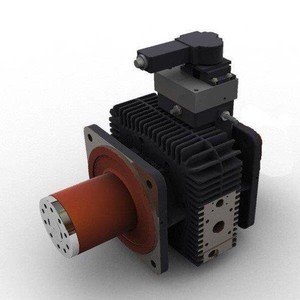 Appkications:
MSD – 2 SPEED SPINDLE GEARBOX CONVENTIONAL DESIGN
The MSD is excellent for conventional design solutions where the motor and gearbox are mounted outside of the headstock and the spindle is driven by belts silent chain or gearing.
The MSD Range consists of:
3 different sizes
Two ratios 1:1 and 3.8:1 or 4.9:1
Power up to 225 HP @ 1500 RPM
Output torque up to 3241 Lb.Ft. (4400 NM)
Input speeds up to 7000 RPM
Speed change actuation by 24V DC motor, pneumatic or hydraulic actuator
Ratio Controlled by integrated proximity switches
Efficiency of 97%
Quiet operation
Compact planetary design
Finned aluminum housing for maximum heat dissipation
Input flanges accommodate most standard spindle drive motors
Large output bearing capacity to accept radial loads from belt drives
Andantex USA Inc
Andantex is your source in North America for the following product categories: Servo Planetary Reducers, Mini Servo Planetary Reducers, Servo Worm Reducers, Rack and Pinion Systems and Components, 2 Speed Spindle Gearboxes, Automatic Lubrication Systems, Lifting Systems, Made to Order Large Gears, Right Angle Gearboxes, Differentials, Mechanical Clutches, Reducers & Multipliers, Magnetic Particle Brakes, Clutches & Torque Limiters, Load Cells, Transducers & Sensors, Electronics & Controllers.