2 Speed VTL Turntable Gearbox
Featured Product from Andantex USA, Inc.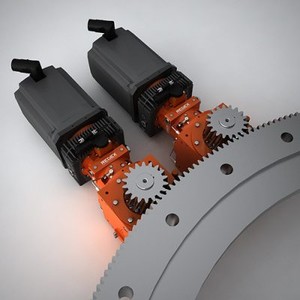 The MSR Range consists of:
4 different sizes
Two ratios optimized for turntable drives
Output torque from 1850 Lb.Ft. (2500 NM) up to 8900 Lb.Ft. (12000 NM) per pinion
Input speeds up to 6000 RPM
Speed change actuation by 24V DC motor, pneumatic or hydraulic actuator
Ratio Controlled by integrated proximity switches
Efficiency of 95%
Quiet operation
Right angle design combines ground spiral bevel gears with a compact planetary
Input flanges accommodate most standard spindle drive motors
Output shaft or hollow spline connection
Optimized output bearing arrangement to accept loading and concentricity requirements of pinion drive
MSR - 2 Speed VTL Turntable Gearbox
The MSR 2-Speed VTL turntable is a new technology that combines two right angle, 2-speed gearboxes to perform high power turning and precise C-Axis motion for milling. The MSR output pinions mesh with the turntable ring gear. In the turning mode both motor-gearboxes work together sharing the load (50%-50%) and keeping the motor size ½ of a conventional main drive motor. During the positioning and milling (C-Axis) mode, one gearbox is preloaded against the other to eliminate backlash and insure accurate positioning. Furthermore, the gear ratio shifting covers the full range of speed required with high speed for turning and low-speed high torque for milling.
Full load is provided during turning and backlash is cancelled during milling.
The MSR is a compact system that dramatically simplifies VTL turntable kinematics and insures high performance with respect to speed range, torque and accuracy.
Applications:
Spindle Drive
Ring Gear & Pinion Drives - Very High Performances
Vertical Turning Center (or Lathe) Table Drive
Machine Tools