Compact rack and pinion dedicated reducer.
Featured Product from Andantex USA, Inc.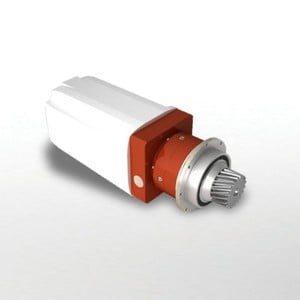 New Size KRP0 + M & KRP0 + R
Andantex is pleased to introduce a smaller size, KRP 0, rack and pinion dedicated reducer. This compact, cost effective solution includes integral module 3 helical output pinions. There are two standard output pinions 14 teeth or 18 teeth along with three standard ratios 5, 7 and 10 providing machine designers a library of standard solutions. Units are available In-Line or Right- Angle. Furthermore ZERO-BACKLASH DualDRIVE (one motor) or TwinDRIVE (two motors) arrangements are available.
The inherent stiffness and robust life of the KRP range make these units an excellent choice for routers and cutting (laser, waterjet, etc.) machines. The ZERO-BACKLASH options allow the elimination of linear scales while still providing required accuracy and precision. Finally, the inclusion of the pinion makes these products extremely cost effective for linear or rotary axis drives.
Andantex USA Inc
Andantex is your source in North America for the following product categories: Servo Planetary Reducers, Mini Servo Planetary Reducers, Servo Worm Reducers, Rack and Pinion Systems and Components, 2 Speed Spindle Gearboxes, Automatic Lubrication Systems, Lifting Systems, Made to Order Large Gears, Right Angle Gearboxes, Differentials, Mechanical Clutches, Reducers & Multipliers, Magnetic Particle Brakes, Clutches & Torque Limiters, Load Cells, Transducers & Sensors, Electronics & Controllers.