Mini In Line Servo Reducers- Planetary
Featured Product from Andantex USA, Inc.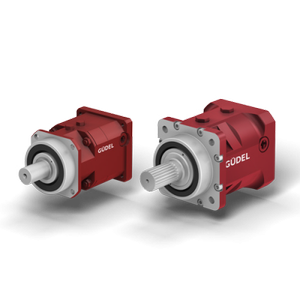 Mini In Line Servo Reducers
This range of planetary reducers is designed for use with servo-motors in all kinds of industrial applications with a focus on cutting machines (laser, water-jet, plasma, stone, etc.) and routers. The compact dimensions allowed by the planetary construction and the availability of 4 backlash precision classes insure cost effective solutions that meet the necessary application precision.
The in-line configuration can be mounted in horizontal, vertical or any position. One two or three stages allow for ratios from 3:1 to 1000:1. Servo-motors are easily adapted to the input and output options include integrated pinion, output shaft (plain, keyed or splined), or hollow bore.
The two sizes extend the range of Andantex SRP planetary reducers so that all axis requirements on a machine can be provided by one supplier.
Features:
Two sizes each with three ranges of torque capacity
In-line configuration mounted in any position
1, 2 and 3 stage arrangements available with ratios from 3:1 - 1000:1
Five standard output arrangements (smooth, keyed, splined, integrated pinion, or hollow bore) along with customized solutions
Four Standard Backlash precision levels < 1, 3, 5, or 12 arc-minutes with < 0.5 arc-min. on request
Torque Capacity from 60 NM to 400 NM
Input speeds up to 6000 RPM
Applications:
Rack & Pinion Drives
Cutting Machines (laser, waterjet, plasma, stone cutting, etc.)
Automation Equipment
Material Handling
Routers (wood, plastics, composites)
Mini Servo Reducer - Planetary
Due to their outstanding properties, planetary gearboxes are used in all kind of industrial applications. Gudel high precision planetary gearboxes ideally cover demanding requirements. With regard to angular backlash, our long experience in the conception and the manufacturing of high-performance gearboxes gives us the ability to provide all products in four different precision classes.
Servo Reducers - Planetary
Andantex offers four families of planetary reducers optimized for stiffness & precision. DRP, KRP and KRPX reducers are dedicated to rack & pinion or pinion ring gear drives with radial and torsionally rigid integral output pinions. SRP is a versatile unit that can be integrated with split pinions, ballscrews, couplings or pinions. ZERO-BACKLASH is achieved using DualDRIVE (mechanical preload) or TwinDRIVE (electrical preload). Over 3000 configurations possible offering the perfect balance of performance & price.