Multi-Point Automatic Lubrication System
Featured Product from Andantex USA, Inc.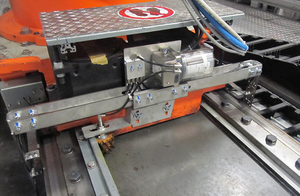 What needs to be lubricated?
Manufacturing companies in every field have realized the best way to be competitive with price and quality is to automate their factories. This requirement to automate has created a large demand for 6 axis articulated arm robots. These robots perform many operations from material handling, painting and welding to actually machining parts. In order to expand the work envelope of the six-axis robot a linear seventh axis is added. This axis allows the robot to move horizontally from station to station or just provide access to larger parts being manufactured.
The seventh axis is typically driven by a rack and pinion system and supported by linear guides. In order to insure reliable operation and minimize downtime these components need to be properly lubricated. The best way to insure lubrication is with a multi-point automatic lubrication system.