New Digital Web Tension Controller
Featured Product from Andantex USA, Inc.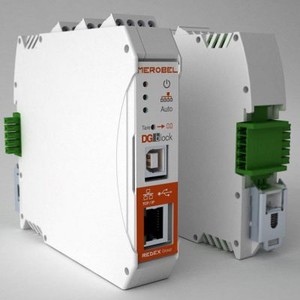 DGblock
Specifically designed for multi-spindles tension control applications, DG-Block is the new benchmark in closed loop digital controller for any industries using equipment managing a large number of wires, cables, fibers or even narrow webs.
Designed with the most advanced technologies, DGblock offers a complete range of specialized functions all in an incredibly compact controller.
DG-Block is a true turnkey solution relying on a very intuitive programming system based on an exclusive computer software (DG-BlockSoft).
One of the most noticeable feature is the bus connector at the back of the enclosure which allows to distribute the main data (set point, measurement, etc.), and the process instruction from one master device to several slave devices, without any extra wiring.
Features:
Built-in precision amplifier for 1 or 2 sensors

Compatible with any load cell technologies

P.I.D regulation algorithm

Combinations of open + closed loop function for demanding applications

Emergency stop torque proportional to the set-point

Soft start function with programmable ramp

Very easy set-up with the PC software (Windows)

Multiple languages choice

Connection to the controller with MODBUS TCP Ethernet port

Design specifically for multi spindle application
Follow us on:
Andantex USA Inc
Andantex is your source in North America for the following product categories: Servo Planetary Reducers, Mini Servo Planetary Reducers, Servo Worm Reducers, Rack and Pinion Systems and Components, 2 Speed Spindle Gearboxes, Automatic Lubrication Systems, Lifting Systems, Made to Order Large Gears, Right Angle Gearboxes, Differentials, Mechanical Clutches, Reducers & Multipliers, Magnetic Particle Brakes, Clutches & Torque Limiters, Load Cells, Transducers & Sensors, Electronics & Controllers.