KRPX - A high performance planetary Servo-Reducer
Product Announcement from Andantex USA, Inc.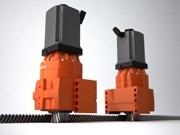 Two units are combined together with electrical preload (TwinDRIVE) to create an extremely stiff ZERO-BACKLASH axis. The KRPX housing design has been optimized by finite element analysis to avoid deflection during acceleration and heavy loads. Furthermore, the output pinions are machined directly into the output shafts and supported by extra-large, preloaded tapered roller bearings to provide the best balance between transmittable torque and stiffness on the rack.
KRPX exclusive design offers exceptional compound stiffness which dramatically decreases the radial bending (up to 60% of the overall deflection) and to increase the natural frequency of the Rack & Pinion drive system.
By combining two high-tech planetary reducers, KRPX allows perfect mounting on both sides of the machine frame and enables true zero backlash when coupled with an electrical preload system.
---