RoHS Compliant Conversion Coating for Aluminum
Service Detail from Anoplate Corporation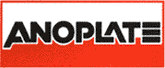 AnoChem TCP replaces hexavalent chromate conversion coatings used for aluminum alloys without sacrificing corrosions resistance, electrical contact resistance or organic topcoat adhesion properties while meeting regulatory requirements of RoHS, WEEE AND ELV legislation. AnoChem TCP, is exclusively available from Anoplate Corporation of Syracuse, NY.
Coating Description:
100% hexavelent-chromium free conversion coating for aluminum and its alloys; RoHS compliant finish
Harder, denser and more abrasion resistant finish than chromate coatings it replaces
Highly corrosion resistant exceeding salt spray requirements of MIL-C-5541, MIL-DTL-81706 and AMS 2473
Outperforms conventional chromate coatings in corrosion resistance testing on high copper bearing aluminum alloys 2024 and 2019
Unlike chromate conversion coatings, corrosion resistant properties don't degrade upon exposure to temperatures above 140°F
Blue-bright finish without characteristic iridescent color of chromate conversion coatings commonly referred to as Alodine® or Iridite®
Meets ASTM B 921, Non-hexavalent Chromium Conversion Coatings, for Class 1 maximum corrosion resistant finish on aluminum alloys
Compliant with IBM finishing Code 41-218A as well as Lucent specification WL-2156, Chemically Oxidized Aluminum #571 finish
Characteristic Properties:
Corrosion Resistance
Heat treatable aluminum alloys withstand 168 hours of salt spray per ASTM B 117 or ISO 3768 without evidence of basis metal corrosion beyond that minimum permitted per specification.
Organic Coating Adhesion
Organic coatings applied to AnoChem TCP pass the adhesion test ASTM D 3359, ISO 2409, and Method 6301 of MIL-STD-141.
---