Modular Sample Processor
Featured Product from Anton Paar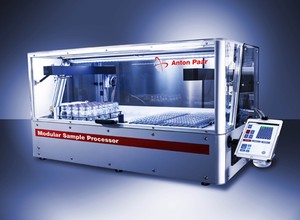 Key Features Gravimetric sampling
Gravimetrically controlled pipetting for subsamples, dilutions and blends with a high-precision weighing unit guarantees the correct volumes of the resulting samples.The complete workflow is software-controlled and the gravimetrically determined final volumes of the subsamples represent the incoming value of the subsequent analysis.
Fast and accurate for highly viscous samples
The standard configuration of the Modular Sample Processor is able to handle viscosities up to 1000 mPas. The capacity for higher viscosities is available and can be integrated on demand.
Flexibility
Based on the system's modular concept you can flexibly assemble your laboratory workflow to integrate the Modular Sample Processor either as
a stand-alone benchtop unit for sample preparation,
a benchtop unit connected directly to an analytical instrument, which is equipped with a flow cell (e.g. Anton Paar analytical instruments),
a benchtop unit assembled with additional automation modules suitable for your laboratory workflow or
an integrated part of a complete automation solution in accordance with your particular needs.
Traceability
The samples are fully traceable over the whole sample preparation workflow by the integrated bar code reader. You always know the origin of the subsample for subsequent analytical measurements as well as all steps performed on the subsample.