SAXPoint SAXS/WAXS/GISAXS system
Featured Product from Anton Paar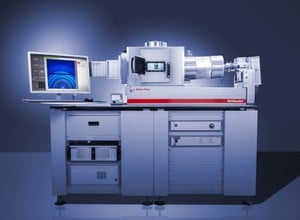 SAXSpoint is the new compact laboratory SAXS/WAXS/GISAXS system for analysis of nanostructured materials. It determines the size, size distribution and shape of nano-sized domains. SAXSpoint is especially suited for analysis of anisotropic materials and nanostructured surfaces. SAXSpoint employs brilliant X-rays with high spectral purity and scatterless beam collimation.

Combined with the latest hybrid photon-counting (HPC) detectors it ensures short measurement time and high-quality SAXS/WAXS/GISAXS results for the perfect analysis of your nanostructured materials.

Benefit from SAXSpoint's large variety of innovative and versatile sample stages which cover many SAXS/WAXS/GISAXS applications. SAXSpoint is your innovative and reliable partner for your daily nano research of polymers, liquid crystals, nanoparticles and nanostructured surfaces.
Key Features:
A compact SAXS/WAXS/GISAXS genius
Excellent resolution and SAXS/WAXS/GISAXS data quality in a short measurement time
Brilliant X-ray beam with high spectral purity
Scatterless beam collimation and the latest hybrid photon-counting (HPC) detector technology
Versatile sample stages for covering many SAXS/WAXS/GISAXS applications
Innovative design and spacious sample chamber to meet all your experimental needs
Brilliant features for all needs
Compact system size – ensuring the best data quality in a short time
TrueSWAXS – simultaneous small- and wide- angle scattering measurements at scattering angles up to 74° 2?
Auto-detection of configuration and sample stages
Full experimental flexibility
Dedicated point-collimation system with a highly-brilliant X-ray beam specifically suited for analysis of anisotropic samples and nanostructured surfaces
Optional fully integrated dual microsource with easy switch over between Cu and Mo radiation for covering various SAXS applications
Optional high-performance set up with fully integrated Ga MetalJet source by Excillum
Versatile sample environment for any applications, including GISAXS studies, SWAXS measurements under controlled temperature, humidity, tensile stress, pressure, etc.
High-throughput screening of liquid and solid nanostructured samples
Powerful control and data analysis software
SAXSdrive™ – full system control for automated SWAXS experiments
SAXSquant™ – simple and fast data processing using customizable templates
Versatile software for advanced SAXS data interpretation