Simplify Synthesis
Featured Product from Anton Paar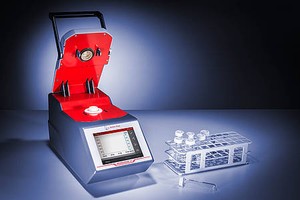 Monowave 50 fits into a crowded lab. High level organic synthesis is performed simply with the reactor, a vial and a silicone cap. Ideal for educational purposes, Monowave 50's safety standards ensure the safest handling even with inexperienced students. You save money, time and space as Monowave 50 provides the best combination of price and quality.
Simplicity
"Plug and play" reactor
All you need is Monowave 50, 1 vial and 1 cap
Integrated capacitive touchscreen
Easy cleaning & minimized customer maintenance
Compact and modern design
Small footprint (25 cm x 40 cm x 20 cm)
Lightweight (8.5 kg)
Serving your needs
Fast synthesis reactions in closed vials
315 W stainless steel heating jacket
Integrated temperature and pressure control
Safe savings
The best combination of price and quality
Reusable vials with caps
Short experiment times
Anton Paar's high safety standards
Do green chemistry!
Integrated cooling system. No need for cooling water
Minimized solvent use
Energy savings due to short reaction times