3D Printing the Strongest Thermoplastics
Featured Product from AON3D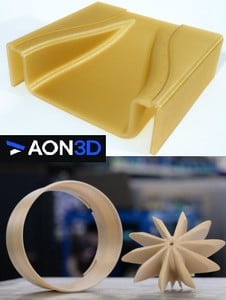 At the top of the thermoplastic pyramid sit three polymers; PEEK, PEKK and ULTEM (PEI) - some of the strongest thermoplastics in the additive manufacturing world. With properties that include incredible strength, temperature resistance and chemical resistances, it's clear why so many engineers across so many industries have looked to these materials for their applications.
This webinar will review the differences between consumer-grade and high performance thermoplastics. We will also look at the material properties and crystallization mechanics that separate amorphous (PEEK) and semi-crystalline (ULTEM) thermoplastics.
Attendees will be guided through the key steps to develop a successful 3D printing process for achieving high-quality parts with high-performance thermoplastics. This includes an overview of the major considerations to ensure success, including how to ensure good first-layer adhesion, how to prevent warping and shrinking, how to improve inter-layer welding and annealing for an even stronger part.