PEI polyetherimide 3D printed part - No Charge
Featured Product from AON3D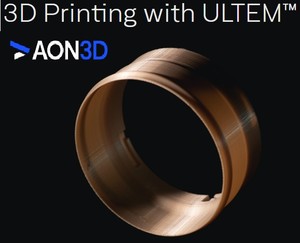 Also known as ULTEM™ 9085, PEI, or polyetherimide is a versatile thermoplastic used in 3D printing which offers excellent mechanical strength and temperature resistance.
When to Use ULTEM™ for 3D Printing?
The Right Kind of Flame Resistance FST-compliance is an important requirement for in many automotive, rail, and aerospace applications and ULTEM™ 9085 offers extremely low smoke emissions with low toxicity when exposed to flame.
Lightweight and Strong Its high stability and high strength-to-weight ratio paired with low density make ULTEM™ 9085 an attractive material to use when you are looking for weight-reduction options.
Cost-Effective High Performance ULTEM™ 9085 is substantially less expensive than the other ultra high-performance thermoplastics – especially when compared to many closed-source competitor materials.
Read about the specific properties HERE
Request a no charge 3D printed ULTEM™ Sample by e mailing us via the links on this page