SA160DP/SA160DPA 10A H-Bridge Motor Driver ICs
Product Announcement from Apex Microtechnology Corporation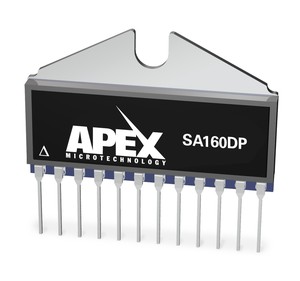 The SA160DP and SA160DPA are low cost, complete H-bridge, Class D "switching" amplifiers for driving brush-type motors and reactive loads. These full-bridge amplifiers can operate on supplies up to 80V while providing up to 10A continuous output current with the standard model SA160DP, and up to 14A continuous with the A Grade SA160DPA.
As follow-on products to the Apex Microtechnology SA60 H-bridge motor driver, both the SA160DP/SA160DPA are designed with very low R DS(ON) to cut the efficiency loss by nearly 2X in comparison to their predecessor product. These new ICs are rated at a typical 140m Ωover the full -40°C to +85°C operating temperature range.
The PWM switching signal for both the SA160DP and SA160DPA can be internally generated and is programmable up to 125kHz using an external integrator capacitor. Both devices can also be controlled by external switching signals up to 250kHz.
Smart low-side and high-side drive circuitry is self-contained, and power efficiency is 97% typical at 10A output. Power delivery to the load is an impressive 800W for the standard grade and up to 1.2kW with the SA160DPA. Housed in the same 12-pin PowerSIP package as the SA60, the SA160DP/SA160DPA are drop-in, pin compatible replacements.
Features
Low cost complete H-Bridge
Self-contained smart low-side/highside drive circuitry
Very low R DS(ON) rated at 140mΩ typical over the full operating temperature range
Up to 80V supply
10A continuous output current (14A for A grade)
Isolated case for direct heat sinking
Four quadrant operation with current control capability
Internal/programmable PWM frequency generation
Target Applications
The SA160DP/SA160DPA are designed specifically to drive brush-type motors up to 2 HP. Other applications include vibration cancellation, active magnetic bearing and magnetic coils.
Click here to view Block Diagram, Product Selector Table, and/or Packaging Evaluation Kit
---