Huge Selection of Linear Motion Products
Product Announcement from Applied Industrial Technologies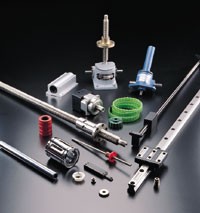 Applied® offers a wide range of linear motion products from industry-leading suppliers. From round rail bearings to 60 case shafting to profile rail bearings, theylocally stock and custom machine the linear motion products you need to keep your operation running smoothly.
Actuators & Worm Gear Jacks
Die Bearings/Bushings
Inner Race Shafting
Linear Bearings - Profile Rail
Linear Bearings - Recirculating Roller
Linear Bearings - Round Rail
Linear Motion Screws & Accessories
Shaft Support Rails & End Blocks
Splines
Systems
Track Roller Systems
Applied® offers top-quality safety products from the brand names you trust:
Bishop Wisecarver
Duff Norton
Ina
Nook
Pacific Bearing
SKF
Thomson
Visit them online at www.Applied.com or call your local service center at 1-877-279-2799.
---