Huge Selection of Lubrication Products & Equipment
Product Announcement from Applied Industrial Technologies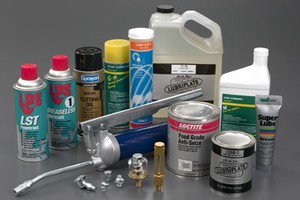 Applied® offers a wide range of lubrication products and equipment from industry-leading suppliers. From food-grade greases to automatic lubrication systems, they locally stock the lubrication items you need to keep your operation running smoothly.
Anti-Friction Coatings
Compounds
Corrosion Inhibitors
Equipment
Fitting Tools
Fittings
Fluids & Oils
Greases
Lubricants
Liquid Level Gauges
Mold Releases
Oil Hole Covers, Cups & Vents
Oilers
Pastes
Sample Ports
Applied® offers top-quality lubrication products from the brand names you trust:
3M
Alemite
Craftsman
CRC
Devcon
Dow Corning
Dykem
Fiske
Gits
Graco
Keystone
Lincoln
Loctite
LPS
Lubriplate
Never-Seez
Precision Brand
Ridgid Tool
Sprayon
Sherwin Williams
Tri-Flow
SKF
OTC Tool
Timken
Trico
Zircon
Visit them online at www.Applied.com or call your local service center at 1-877-279-2799.
---