CTS: Switches
Product Announcement from ArKco Sales, Inc.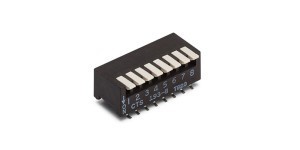 DIP Switches:
CTS slide DIP Switch versions are available in a broad range of low profile, half pitch (.05 inch), standard pitch (.1 inch), through hole, and surface mount options. We offer top, right angle, or side actuation styles. Additionally, our unique design & construction allows for superior ESD protection in many of our DIP switch products. Our DIP switch product line includes SPST, SPDT, DPST, and 3PST circuit switching options. Some styles are available with a choice of gold plated or economical tin plated contacts. Optional bottom epoxy seal and removable top tape seal on the actuator side protect the switches during soldering and board washing. Custom marking is also available.
Rotary DIP Switches:
The CTS 7 x 7mm miniature 10 x 10mm compact versions are available in both surface mount-gull wing & through hole terminal styles with slotted flush arrow rotor or slotted shaft actuator. The 10 x 10mm is also available in a J bend surface mount construction. Our robust design features precise detents, clockwise or counterclockwise rotation, binary coded decimal (BCD) & hexadecimal output, high temperature resistance, gold plated beryllium copper contacts and tin coated terminals. Additionally, rotary DIP switches can be used in many of the same applications that use slide type DIP switches, as well as, applications that require less space on the PCB or require an easier adjustment setting for the user.
Rotary Selector Switches:
CTS offers durable construction and flexibility with our rotary switch product line. Our robust hill and valley detent system allows crisp and sure connections and the molded stator prevents solder from flowing into the circuit during your assembly process. This reliable construction combined with these available options provide a product to meet the needs of your application: available with both shorting & non-shorting contacts, solder lug or printed circuit terminals, various shaft styles, sealable up to an IP67 rating, single or multi-deck construction, and custom switching patterns. The index assembly and wafers are also available separately.
Tactile Switches:
CTS tactile switches combine reliability with excellent tactile feedback. We offer multiple sizes, operating forces, actuator heights, and life cycles to meet the needs of your application. Our tact switches are used for human interface applications where the user applies force to the push button momentary switch for selection and control.
About CTS:
Founded in 1896, CTS Corporatin is a leading designer and manufacturer of sensors, actuators and electronic components to OEMs in the aerospace, communications, defense, industrial, information technology, medical and transportation markets. With 12 manufacturing locations throughout North America, Asia and Europe, CTS focuses on providing advanced technology, exceptional customer service and superior value to industry partners throughout the globe.
CTS aims to be at the forefront of technology, delivering innovative sensing, connectivity and motion solutions for the creation and advancement of products and services around the world.
SENSE:
Controls - Encoders, Mini-Joysticks, Trimmer Potentiometers, Variable Resistors/Potentiometers
Pedals - Contacting, Haptic, Non-Contacting
Piezoelectric Sense Products - Flow Meters, Hydrophones, Non-Destructive Testing, Ultrasonic Imaging, etc.
Sensors - Chassis Sensors, Clutch and Brake Sensors, Custom Position Sensors, Seating Sensors, Speed Sensors, Throttle Position Sensors, Transmission Sensors, etc.
Switches - DIP Switches, Rotary Selector Switches, Tactile Switches
Transducers
CONNECT:
EMI/RFI Filters - Customized Filters Assemblies, Feed-Through Filters, Surface-Mount Filters
Frequency Control Products - Crystals, Clock Oscillators, OCXOs, TCXOs/VCTCXOs, Timing Modules, VCXOs/VCSOs
RF Filters - Band Pass Filters, Diplexers, Duplexers, RF Delay Filters
Specialty Capacitors - Ceramic Disc Capacitors, Variable Capacitors, WEECON Capacitors
Specialty Resistors - Current Resistors, Resistor Networks & RC Terminations, Ultra-High Resistance
MOVE:
Piezoelectric Move Products - Inkjet Printing, Piezo Actuators, Speakers, Ultrasonic Cleaning, Valves, etc.
Rotary Actuators - Brushed DC Actuator, Brushless DC Actuator
Thermal Products - ZIF PC Board Retainers
---