ebm-papst: New Generation of Compact Fans
Featured Product from ArKco Sales, Inc.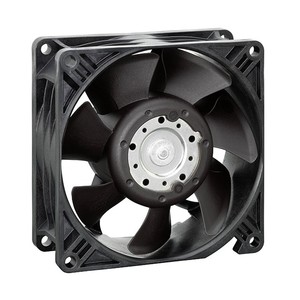 The first compact fan from the S-Panther generation - 3250J
With the 3250J, the new S-Panther generation can now also offer a high-performance compact fan of size 92mm x 92mm x 38mm. This fan is ideal for dissipating large quantities of heat in confined spaces.
As compared to the 3200J from the S-Force generation, the new 3250J (S-Panther) is a good deal quieter and attains an almost identical air performance despite its lower speed. It is superior to the 3200J series in terms of efficiency.
Further advantages of the new fan range include new operating ranges and a leaner product line, as certain 3200J series fans are no longer required.
There are currently three different product versions with a nominal voltage of 48V.
The 24V versions are already available on request, with the 12V versions to follow shortly.
Performance range of the compact fan 3205J series:
The air flow (free air) of the 3258JH3P fan is 270 m3/h, making it the most powerful model in the new fan range. The 3258JHHP generates an air flow (free air) of 235 m3/h.
In contrast to the 3200J (S-Force), the fan operates optimally in a slightly higher air flow range and is suitable for lower back pressure. This opens up new areas of application demanding a lower noise level.
Advantages of the compact fan 3250J series:
The GreenTech philosophy again played a decisive role in the development of the new 3250J (S-Panther) and offers customers a whole range of advantages:
Enhanced noise characteristics as compared to the 3200J (S-Force) and 3200J
Efficiency superior to 3200J
Improved air performance at the same speed (in direction of free air range)
Cost optimization thanks to fan design adaptation
Optimized shaft/hub joint
Optimized power electronics
Optimized plastic bearing tube
Longer service life
Air flow-oriented curve
Lower power consumption
Lower than with 3200J with comparable air performance
Specifications:
Bearing Type: Ball
Fan Type: Tubeaxial
Material - Blade: Polyamide (PA), Nylon
Material - Frame: Polybutylene Terephthalate (PBT)
Noise: 59.0 dB(A) ~ 64.0dB(A)
Operating Temperature: -4 ~ 158°F (-20 ~ 70°C)
Power (Watts): 24W ~ 35W
RPM: 6650 RPM ~ 7450 RPM
Size / Dimension: Square - 92mm (L) x 92mm (H)
Termination: 3 wire leads ~ 4 wire leads
Voltage - Rated: 12VDC ~ 48VDC
Weight: 0.529 lb (239.95g)
Width: 38.00mm
Applications of the compact fan 3250J series:
IT telecommunications (switch cabinets, IT servers, IT power supply units)
Automation
Frequency converters
Solar inverters
Refrigeration technology (refrigerated display cases)
Medical technology
About ebm-papst Inc.:
ebm-papst Inc. is headquartered in Farmington, CT
250K sq ft
20 regional offices
275 employees
Value added
Complete air testing lab on site
Complete sound testing chamber on site
CFD simulation capabilities on site
ISO 9001 and 14001 certification
Distribution from Farmington (CT) and Toronto
National distributor locations
With offices in major cities throughout North America, our highly-skilled and experienced team of professionals are ready to tackle your most difficult air moving challenges and offer solutions that meet your needs. We serve all markets including Agriculture, Air-Conditioning and Ventilation, Appliance, Commercial Refrigeration, Heating, Industrial, Lighting, IT/Telecom, Medical, Transportation and more. You can always count on prompt, courteous service. Customer satisfaction is our number one priority.
Expert support when and where you need it
Knowledgeable field sales professionals are close by for face-to-face meetings. Dedicated inside sales associates fulfill all your ordering requirements. To assist you with order management, our Customer Relations department provides automated services such as shipment notifications, reorder notifications, and invoicing.
To find the right air moving solution for your needs, our experienced application engineers are at your service to answer all your product application questions. Our on-site testing lab is available to our customers for product/prototype testing. We offer air flow, noise, environmental (including Salt Fog chambers), and temperature testing. Burn-in ovens are also available.
Our electrical engineering team, with diverse industry and product design backgrounds, provides a full range of services including hardware and software design, analysis and testing, and electronics manufacturing. Some of the services performed in our on-site lab are circuit analysis, reliability and environmental testing, prototype build and testing, test equipment design and build.
Value added to meet all your needs
ebm-papst, the world's leading source for engineered air movement solutions, provides a "total solution" approach to your cooling requirements using our extensive in-house resources. Custom assemblies are designed by our engineers to your specifications for a wide range of applications.
Core Competencies: Motor technology, aerodynamics and electronics
Design and Build: Hardware and software, test equipment and prototypes
Testing & Analysis: Acoustic, air flow, electrical engineering, environmental, reliability and CFD simulation
Equipment: Acoustic test chamber, air test chamber, burn-in oven, powder paint line and sheet metal fabrication
Logistics and inventory management programs
We have over 90,000 sq ft of climate-controlled warehousing at our facilities offering real-time inventory transactions and bar-coded inventory. Inventory management programs can be customized to your requirements.