NIR Spectrometer 900 - 2600nm
Product Announcement from Arcoptix S.A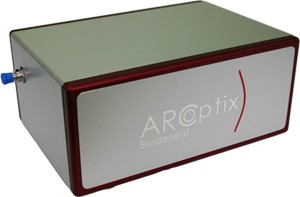 The NIR spectrometer from Arcoptic is a scanning Fourier Transform Spectrometers (FTS) with a broad spectral range from 900 to 2600nm (11'000-3800cm-1) and a resolution of 4cm-1 (2nm). The fibered model with SMA connection can be used in combination with all standard fibered measurement accessories. The NIR spectrometer from Arcoptix is Ideal alternative to the conventional grating spectrometer when broadband spectral range, high resolution and high SNR is needed
Features:
High stability in wavelength position and intensity (no baseline drift)
High wavelength precision (ideal for peak detection)
High resolution 2nm (4cm-1)
Fibered system (compatible with any other sma accesories of the market)
Large wavelength range (only limited by the detector)
Modular system with seprate interferometer, detector and illumination module
Cost effective (single NIR photo-diode)
About Arcoptix:
ARCoptix is located around the ARC of the Jura mountains in the heart of the watch valley in Neuchâtel, Switzerland.
Arcoptix is manufacturing specialized FTIR spectrometers and has a distributor network around the world.
View more about our extensive line of products below:
FT-NIR-Rocket - The smallest NIR Fourier Spectrometer in the world.Covers 900nm to 2600nm in wavelength (depending on the model).
FTIR-Rocket - The smallest FTIR module worldwide on the market. Low cost of maintenence, robust, and compact. Solid state laser control, Ethernet and USB connection. Available in stand-alone portable version
ARCSpectro-HT - Miniaturized static Fourier Spectrometer based on innovative crystal technology with a spectral range between 400nm and 1000nm. It provides an extremely high throughput ideal and does not need fiber optics. Ideal for diffuse reflection measurement or low light applications
SpectroSolar - The SpectroSolar is high quality robust USB powered grating spectrometer optimized for measuring the spectral contents of pulsed (down to 1ms) and continuous solar simulators.
USB IR Lamp -The Arcoptix USB lamp is a compact USB-powered lamp. The USB lamp features a SMA 905 connector for easy coupling in optical fibers. The lamp can be connected to a sample holder, reflection probe or to an integration sphere.
---