PYRO-TAPE 682-PM PLASMA SPRAY MASKING TAPE
Product Announcement from Aremco Products, Inc.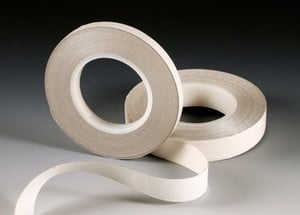 Pyro-Tape 682-PM is a new tri-layer silicone rubber, aluminum foil and fiberglass tape used for masking high velocity oxy-fuel thermal and plasma spray operations. The tape material is combined with a high strength silicone adhesive that provides an adhesive strength of 40 ounces per inch. The temperature rating is -100 ° F (-73 ° C) to 500 ° F (260 ° C) and tape tensile strength is 130 psi. Cross-sectional thickness is 0.019" (0.480 mm).
Pyro-Tape 682-PM is available in standard sizes of ½" and 1" wide x 36 yards and custom widths are available upon request:
---