Custom Medical Tubing
Product Announcement from Argos Corporation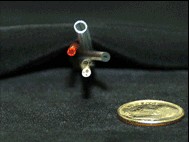 Argos Corporation is a custom extruder of thermoplastic tubing & pipe. We pride ourselves on our solution-oriented approach to our customer's needs and the long-term relationships that have developed as a result. Whether your company requires tubing in standard sizes or specialty fabricating, Argos' many value added services can help.
Argos Corporation's customers receive unsurpassed quality, service, and attention to detail. This is achieved with the use of state of the art equipment, dedicated, well trained employees, and a staff of plastics engineers with over 60 years of combined experience in material selection, and design & manufacturing.
Argos' staff of plastic's engineers are available to assist you in any phase of your project. From product design & material selection through production & packaging, we have the know-how to help you achieve your goals.
---