HZ Rapid Cycle Hypercyl Hydra Pneumatic Cylinder
Product Announcement from Aries Engineering Co., Inc.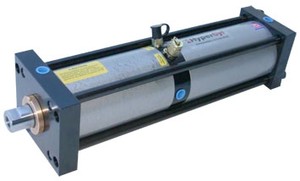 Available in sizes from 1 to 30 tons and 1.00" of power stroke, the HZ cylinder design provides a very compact package where space is limited. Customized power stroke lengths are available upon request.
Standard Features:
Total air/oil separation
Operation in any position or attitude
Linear force output
Two moving components
Internal shock pads standard
Fill and high pressure gage couplings
Two standard mounting styles available; FH(Standard) and UH(Universal).
Single Valve operation for simplified control circuits
100,000 PSI tensile tie rods
NFPA medium duty mounting styles available upon request
4.7 million MTBF, 20 million service life
Field serviceable-seal kits
Fill units/repair manual
Heavy-duty construction designed for years of trouble free use
Numerous options, such as gage kits, sensors, press frames and bases.
3 year warranty
Options:
PAF/PAQ die set couplings
Rod Lock Option
PT/ELT Sensors
Gage Kits
SW Psi. switch, analog or digital
Fill Units, manual/automatic
HyperCyl IntelliCylR Force/Distance Monitoring System includes;

Low Voltage Linear Transducer with cable
Load Cell with cable
SRCM Signature Analysis Controller
Modifications such as rod end styles, port locations, approach and power stroke lengths are options available upon request. Please contact your local AEC Representative for assistance. AEC reserves the right to change specifications. CAD disks (.dwg, .dxf format) are available for the full line of HyperCyl® cylinders.
---