Hypercyl-EMA (Electro-Mechanical Actuator)
Product Announcement from Aries Engineering Co., Inc.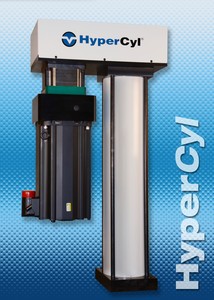 Available in both Roller Screw and Ball Screw configurations in load ratings from 5kN to 230 kN (1 - 25 tons), HyperCyl-EMA provides a new level of price/performance in the automotive, aerospace, DOD, Appliance, Medical, Electronics and Transportation industries for a wide range of applications.
Capable of .0025mm (.0001") repeatability and up to 500mm/sec (20"/sec) ram speeds, HyperCyl-EMA provides the performance and flexibility required in both current and future manufacturing environments. That's right, it's machined, manufactured and assembled right here in the USA!
HyperCyl-EMA is available in (3) packages as an Actuator/only (you supply the motor), Actuator/Drive/Cables/HyperView-Press which includes necessary drive and HyperView-Press package as well as a Complete Tooling Ready TurnKey press station.
Clean, Capable and Dependable
The HyperCyl-EMA linear actuator is a fully sealed assembly that is far less susceptible to contamination and much easier to maintain than hydraulic cylinders and comparable actuators. From clean room applications, medical and electronic component manufacturing to heavy industrial punching and pressing, HyperCyl-EMA offers the solution of Precision Quality you come to expect from the U.S.A.
Energy Efficiency through Technology
HyperCyl-EMA actuators use 82% less energy than comparable Hydraulic cylinders with the same force rating. These actuators are easy to set up, easy to use and can operate several different applications at the touch of a button. The ultimate investment in versatility for your high force needs in one complete cost-effective package.
---