Tapered Paper Caps - EFTC Series
Featured Product from Arizona Sealing Devices, Inc.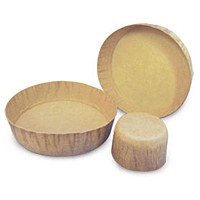 Arizona Sealing Devices - EFTC paper caps are and environmentally friendly masking solution made of post consumer and new materials that are recyclable. Applications include painting and powder coating.
Features:
Environmentally friendly masking solution: recyclable
Made of a blend of post consumer and virgin materials
Paper does not promote condensation
Economical solution compared to rubber and silicone products
Applications: painting or powder coating
Paper is hygroscopic, meaning there will be minor dimensional variations with changes in humidity
Dimensional Tolerances: A typically +/- 0.010" (0.25mm), B typically +/- 0.025" (0.63mm), C typically +/- 0.050" (1.27mm)
Arizona Sealing Devices, Inc., located in Chandler, provides excellent customer service and has a knowledgeable staff. True to our origins, we still provide a variety of high quality o-rings (military, standard, FDA, and metric) and o-ring kits, but continue to meet the new needs of our increasing clientele. Thanks to this increase in our product selection, we now deal with items such as standard and custom gaskets, sheeting, oil seals, u-cups, cable ties, clamps, grommets, caps, and plugs. The materials that we provide are Buna/Nitrile, Viton, Ethylene Propylene, Silicone, Fluorosilicone, Neoprene, PTFE, Polyurethane, Aflas, Butyl, Chemraz, and Kalrez.