Benchtop and field monitoring of petroleum oils
Featured Product from Arjay Engineering Ltd.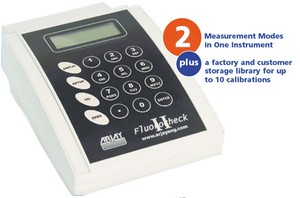 FluoroCheck ppm Oil in Water Monitor
Features and Benefits
two modes of sample testing
solvent extraction qualifies sample to ISO 9377-2 and EPA 1664 Rev A methods
fast sample preparation and immediate readings
controlled and safe use of solvents
easy calibration and instrument set-up
reading printout serial port
bright backlit display of ppm readings
long life LED light source
multi-point calibration available for increased accuracy
multiple calibration library of various oils or sites
LED intensity selection to maximize response to unique oils
no lag time, sample injection, or evaporation
ideal for site screening and process trend monitoring
compliments and supports existing laboratory results
available with re-chargeable battery pack or vehicle jack
The FluoroCheck offers a fast and easy approach to the measurement of hydrocarbon oils in water. Filtered light energy targets the aromatic component of the water sample and measures the hydrocarbon fluorescence. Through an Arjay or site specific calibration, this aromatic tag is correlated to a total oil reading of your sample.
Arjay offers two test modes in one instrument; letting you determine the most suitable approach for your testing needs. You can choose from the factory preset calibrations for immediate on-site use or do your own calibration specific to your site. You can even run routine solvent-free tests and easily switch to a solvent extraction when a more selective test is warranted. All tests use disposable cuvets to eliminate cross-contamination and cleaning issues.
Direct Water Testing
A water sample can be measured directly in the instrument without solvents or sample preparation. This is ideal for general screening to identify the presence or absence of hydrocarbons in groundwater, wastewater, cooling water and oil/water separator effluents.
Solvent Extraction
To optimize the accuracy of the readings or to correlate the FluoroCheck to a specific analytical method, solvent extracted samples can be used. An extraction with hexane, pentane, or other extractive fluid will qualify samples using EPA 1664 Rev A and ISO-9377-2 extraction techniques. A calibration is entered using your local laboratory's results and methodology.
Operating Temp. 15?C to 40?C, indoor use
Power Input 100-240 VAC, 47-63 Hz,
0.5A or 12 VDC, 1.5A
Approval Standards UL, CSA, CE (transformer)
Range 0-100 ppm
(extended with sample dilution)
Display Resolution 0.1 ppm
Instrument Accuracy +/- 0.1 ppm
Related Papers from our library:
Arjay Engineering has been designing and manufacturing process and environmental controls for over 20 years. Their main facilities are located in Oakville (Toronto), Canada. Support facilities are also located in Vancouver, Canada and Beijing, China. They are also supported by a network of product representatives throughout North America and in various regions of the world.
Arjay is not only able to provide their customers with manufactured products, but they also accommodate their customers by providing custom design and engineering services and control panel assembly. To enhance their services, Arjay invites you to share your application inquiry with them. Their core technologies and design flexibility may extend beyond the products listed. The opportunity to address your application ideas with their designs is welcomed. Arjay also invites you to contact them if your interests include a joint venture, re-sale, or representative opportunity.
Arjay manufactures under the following trade names:
The Level-Ease Monitors and Controls
The HydroSense Oil in Water Monitor
The Arjay and Enmet Series line of Gas Detection Products