Capacitance Monitor -automated monitoring solution
Featured Product from Arjay Engineering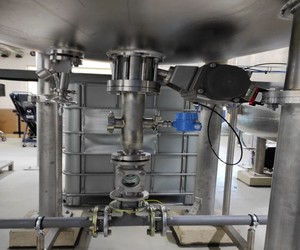 Pharmaceutical company in Germany installs Capacitance Monitor for automated monitoring solution
A pharamecutical company in Germany installed Arjay Engineering's 2852-CAP Capacitance Monitor for an automated monitoring solution of the interface between two proprietary chemicals.
Prior to the installation, the reliance on a sight glass and operators was a concern. The separation of the two chemicals during the manufacturing process require constant monitoring as one of the liquid drains out. The 2852-CAP monitors for the phase change between one liquid to the next, initiating an alarm when a positive or negative capacitance change is detected.
The explosion proof probe carries CSA, UL and ATEX certifications for Zone 0 locations and an intrinsic barrier to protect the sensor.
Arjay Engineering is the designer and manufacturer of environmental & process control instrumentation. We are able to work with you to custom design products to fit your application needs.
Visit our website or contact us at arjay@arjeyeng.com | 905-829-2418
Connect with us on social media: