HydroSense 4410-OCM PPM Oil in Water Monitor
Featured Product from Arjay Engineering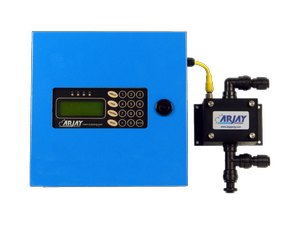 HydroSense 4410-OCM Oil in Water Monitor

The HydroSense 4410-OCM continuously monitors a clean water sample for petroleum hydrocarbon concentrations. The display, signal output, and alarm can be configured within the 0-100 ppm range. On-line monitoring for ppm petroleum oil in industrial filtered water and cooling water.
The HydroSense 4410 offers a high accuracy approach to monitoring low concentrations of free and soluble oils in water. Combining many unique design features into a compact package makes this an ideal solution to monitoring for oil contamination in your water system.
The HydroSense 4410 uses a UV fluorescence technique to target the aromatic component of the oil contamination. Through a site calibration, this aromatic tag is able to provide an indication relative to total oil.

A slip stream approach directs a continuous sample flow through the HydroSense unit and back into the process stream. While it passes through the sample cell, filtered UV light is targeted in the water. The soluble and emulsified oils in the water will excite from this light energy and fluoresce light energy back out of the water at a signature wavelength. The intensity of light energy at this wavelength is measured to provide an indication of the ppm concentration.
Features and Benefits
LED light sources for stable long life
Multiple fluorescence excitation and emission wavelengths
available simultaneously to define oil types
Light Scatter available with or without fluorescence for
non-petroleum oils and turbidity
Cuvet available for manual sample insertion testing
Scale/Algae Inhibitor module available for untreated waters
Easy calibration with menu-driven 4-line display
Sensor block can be remote from controller to 1,200 meters
Compressed air inlet for high condensation applications
View full product details here.
For more details contact us at 905-829-2418 or email arjay@arjayeng.com.
Arjay Engineering
Arjay Engineering is a industry-leading designer and manufacturer of top-quality process and environmental control systems and oil-in-water monitors.
Arjay Engineering offers a unique and completely customized line of products in the environmental and process control field. Our products are used for a variety of jobs, including but not limited to:
Oil in Water Monitoring
Level Controllers
Gas Detection
With over 40 years of manufacturing and engineering experience, we have extensive knowledge in the world of oil in water, capacitance, level controls and gas detection. In addition to our manufactured products, we also provide custom design and engineering services.
We have uniquely designed our products with advanced technology to help industries work better in environmentally sensitive areas. Our goal is to help you and your business achieve a consistent production level in the safest way possible. That is why we've manufactured our products with the best materials in the industry. We also maintain several industry certifications including Hazardous Location Approval and Certifications from CSA, UL, ATEX, IECEX, ABS and IMO.