Non-intrusive monitoring of chutes & hoppers
Featured Product from Arjay Engineering Ltd.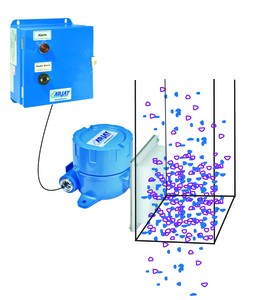 2852-PCD Plugged Chute Detector
Part Number Starting: 2852-PCD
Non-intrusive monitoring of chutes and hoppers for bulk material detection
Combining the technology of capacitance with unique sensor designs provide non-intrusive monitors for bulk solids handling systems. The result is a low cost and low maintenance system to determine the presence or absence of product in a pipe, chute, or other vessel.
Plugged Chute Detectors monitor a chute or vessel using a sensor mounted flush with the chute wall. The sensor indicates a normal passage of product. When the product compacts due to a plugged condition, the monitor activates a relay to turn off equipment and alert operators.
The 2852-PCD sensor monitors the capacitance field in front of the sensor plate.
The sensing plate forms part of the chute or hopper wall to sense the product within. The increased presence of product in front of the sensor due to a plugging condition increases the capacitance field and initiates an alarm.
The sensing plates are embedded into a polyethylene plate which provides monitoring without any intrusion into the product flow.
Features and Benefits
Flush mount sensor forms part of the chute wall
Adjustable time delay and sensitivity to eliminate nuisance alarms
Remote electronics via standard twisted pair
Sensor available Intrinsically Safe for Hazardous Locations
High erosion resistant polyethylene resists wear
Capacitance technology responds to all types of bulk materials
Non-intrusive sensor design does not restrict product movement
Capacitance technology responds to any material type
No moving parts
Remote alarm unit mounts safely away from pipe
No intrusion into chute or hopper
Arjay Engineering has been designing and manufacturing process and environmental controls for over 20 years. Their main facilities are located in Oakville (Toronto), Canada. Support facilities are also located in Vancouver, Canada and Beijing, China. They are also supported by a network of product representatives throughout North America and in various regions of the world.
Arjay is not only able to provide their customers with manufactured products, but they also accommodate their customers by providing custom design and engineering services and control panel assembly. To enhance their services, Arjay invites you to share your application inquiry with them. Their core technologies and design flexibility may extend beyond the products listed. The opportunity to address your application ideas with their designs is welcomed. Arjay also invites you to contact them if your interests include a joint venture, re-sale, or representative opportunity.
Arjay manufactures under the following trade names:
The Level-Ease Monitors and Controls
The HydroSense Oil in Water Monitor
The Arjay and Enmet Series line of Gas Detection Products