Oil in Water Monitoring - Environmental Compliance
Featured Product from Arjay Engineering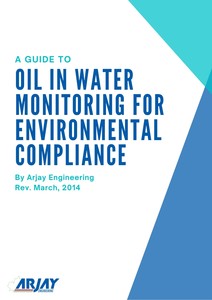 A Guide to Oil in Water Monitoring for Environmental Compliance
This guide by Arjay Engineering focuses on oil in water for environmental compliance. However, much of the content can be applied to process applications as well. Since most environmental concern is directed to petroleum based oils, there is a focus in this guide toward these types of oils.
Oil IN Water refers to products measuring the concentration (in ppm or %) of oil dissolved or emulsified oil in water.
Oil ON Water refers to products monitoring separated oil on the water surface.
These devices continuously measure the concentration (in ppm or mg/L) of oil dissolved in water. In general, oil in water monitors can be used for various applications that require oil monitoring within any type of water system.
View our Oil in Water Monitors and Analyzers
In addition to our oil and water monitor products, we also produce industrial oil water separator alarms, interface monitors, oil spill detectors, and more.
For more information on oil in water monitors, contact us at 905-829-2418 or email arjay@arjayeng.com. We look forward to helping you find the perfect solution for all your oil/water needs.
Arjay Engineering
Arjay Engineering is a industry-leading designer and manufacturer of top-quality process and environmental control systems and oil-in-water monitors.
Arjay Engineering offers a unique and completely customized line of products in the environmental and process control field. Our products are used for a variety of jobs, including but not limited to:
- Oil in Water Monitoring
- Level Controllers
- Gas Detection
With over 40 years of manufacturing and engineering experience, we have extensive knowledge in the world of oil in water, capacitance, level controls and gas detection. In addition to our manufactured products, we also provide custom design and engineering services.
We have uniquely designed our products with advanced technology to help industries work better in environmentally sensitive areas. Our goal is to help you and your business achieve a consistent production level in the safest way possible. That is why we've manufactured our products with the best materials in the industry. We also maintain several industry certifications including Hazardous Location Approval and Certifications from CSA, UL, ATEX, IECEX, ABS and IMO.
Click here for our Corporate Profile
A snapshot of our past, present and future.