Reliable monitoring of liquid leaks
Featured Product from Arjay Engineering Ltd.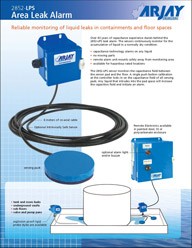 2852-LPS Area Leak Alarm
Reliable monitoring of liquid leaks in containments and floor spaces
The Leak Pad Sensor (Area Leak Alarm) can be placed on containment floors and pans to alert on a dry vs. wet condition. These can be placed around a tank, in electrical and computer vaults, and in pump stations.
The 2852-LPS sensor monitors the capacitance field between the sensor pad and the floor. A single push button calibration at the controller locks in on the capacitance field of all sensing pads. Any liquid that intrudes into the pad space will increase the capacitive field and initiate an alarm.
Features and Benefits:
sensor pads can be placed in key locations and tight spaces
up to 3 sensor pads can connect to one control unit
adjustable time delay and sensitivity to eliminate nuisance alarms
remote electronics via standard twisted pair
sensor available Intrinsically Safe for Hazardous Locations
high grade epoxy and PVC wetted parts allow for corrosive environments
capacitance technology responds to all types of liquids
capacitance technology alarms on any liquid
no moving parts
remote alarm unit mounts safely away from monitoring area
available for hazardous rated locations
Related Papers from our library
Arjay Engineering has been designing and manufacturing process and environmental controls for over 20 years. Their main facilities are located in Oakville (Toronto), Canada. Support facilities are also located in Vancouver, Canada and Beijing, China. They are also supported by a network of product representatives throughout North America and in various regions of the world.
Arjay is not only able to provide their customers with manufactured products, but they also accommodate their customers by providing custom design and engineering services and control panel assembly. To enhance their services, Arjay invites you to share your application inquiry with them. Their core technologies and design flexibility may extend beyond the products listed. The opportunity to address your application ideas with their designs is welcomed. Arjay also invites you to contact them if your interests include a joint venture, re-sale, or representative opportunity.
Arjay manufactures under the following trade names:
The Level-Ease Monitors and Controls
The HydroSense Oil in Water Monitor
The Arjay and Enmet Series line of Gas Detection Products