Test Kit for Cooling, Storm, & Produced Water
Featured Product from Arjay Engineering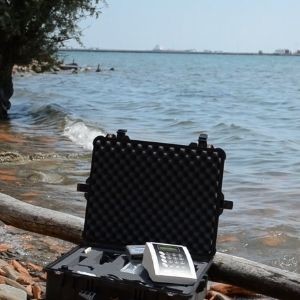 Test Kit for Cooling, Storm, & Produced Water
The FluoroCheck II is a benchtop and transportable unit for discrete sample measurements of ppm hydrocarbons in water. The FluoroCheck II correlates well against EPA 1664 and ISO 9722-2 Methods using solvent extraction. It is fast, easy, and great for general screening of hydrocarbons in water without the need for solvents.
The FluoroCheck II provides benchtop and field monitoring of petroleum oils in:
Wastewater and groundwater
Industrial effluents
Cooling water
Produced water
View full product details here.
For more details contact us at 905-829-2418 or email arjay@arjayeng.com.
Arjay Engineering
Arjay Engineering is a industry-leading designer and manufacturer of top-quality process and environmental control systems and oil-in-water monitors.
Arjay Engineering offers a unique and completely customized line of products in the environmental and process control field. Our products are used for a variety of jobs, including but not limited to:
Oil in Water Monitoring
Level Controllers
Gas Detection
With over 40 years of manufacturing and engineering experience, we have extensive knowledge in the world of oil in water, capacitance, level controls and gas detection. In addition to our manufactured products, we also provide custom design and engineering services.
We have uniquely designed our products with advanced technology to help industries work better in environmentally sensitive areas. Our goal is to help you and your business achieve a consistent production level in the safest way possible. That is why we've manufactured our products with the best materials in the industry. We also maintain several industry certifications including Hazardous Location Approval and Certifications from CSA, UL, ATEX, IECEX, ABS and IMO.