The engineered combination of 3 unique designs
Featured Product from Arjay Engineering Ltd.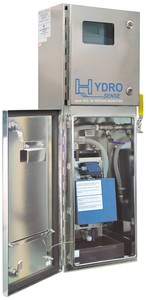 HydroSense 2410 ppm Oil in Water Monitor
On-line monitoring for ppm concentrations of petroleum oils in effluent and produced water
The HydroSense 2410 is the engineered combination of three unique designs by Arjay. The sensing chamber contributes a continuous controlled water sample while the optical sensor package hovers above the passing stream. The Arjay controller then monitors the multiple signals to provide a reliable ppm concentration output.
The HydroSense 2410 uses a UV fluorescence technique to target the aromatic component of the oil contamination. Through a site calibration this aromatic tag provides an indication relative to total oil.
A continuous sample flow is tapped or pumped off the process line and directed through the HydroSense chamber. It passes behind the non-contacting UV light source and is targeted with filtered light energy. The soluble and emulsified oils in the water will excite from this light energy and fluoresce light energy back out of the water at a signature wavelength. The intensity of light energy at this wavelength is measured to provide an indication of the ppm concentration.
Performance
The performance is based on the site calibration to a known hydrocarbon concentration in stable background water. Changes in hydrocarbon make-up and background stability may affect the output. Through a simple calibration, this unit correlates well with laboratory ISO and EPA methods.
Arjay Engineering has been designing and manufacturing process and environmental controls for over 30 years.
Our main facility is located in Toronto. Support facilities are located in Vancouver and Beijing. Arjay is also supported by a network of product representatives throughout North America and in various regions of the world.
In addition to our manufactured products, Arjay is able to provide custom design and engineering services and control panel assembly.
We invite your application inquiry. Our core technologies and design flexibility may extend beyond the products listed. The opportunity to address your application ideas with our designs is welcomed.