ARMAKLEEN™ M-RP- Rust Inhibitor
Featured Product from Armakleen Company (The)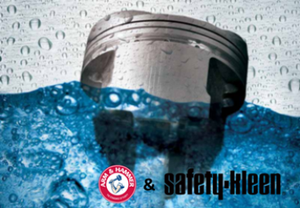 Patented aqueous rust preventative designed to provide additional temporary rust protection on most metals. Can be used in all aqueous cleaning equipment applications.
General Description
ARMAKLEEN™ M-RP is a water-based rust inhibitor that enhances corrosion protection to metal surfaces during the cleaning process and provides temporary indoor rust protection on parts after cleaning when left on surfaces. The amount of rust protection is dependent on many variables including the environmental condition of the storage facility. The unique oxidized polymer formula of ARMAKLEEN™ M-RP works effectively and often outperforms other water based rust preventatives without the use of nitrites or amines.
This versatile product can be manually added to all ARMAKLEEN™ aqueous cleaners to improve corrosion protection or used as a stand alone rust preventative in multiple stage cleaning systems. As an additive, simply add M-RP at 1 pint per 30 gallons of cleaning solution as needed to improve corrosion protection. As a stand alone rust preventative, ARMAKLEEN™ M-RP should be used at 1-3% by volume.