Foaming in Aqueous Cleaning: A Growing Problem
Featured Product from Armakleen Company (The)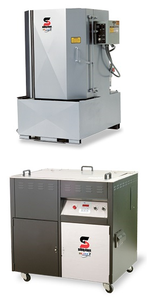 Foaming in Aqueous Cleaning: A Growing Problem
It's not a new problem, but it's one that is becoming more and more prevalent: foaming in aqueous bath-based cleaning.
Foam can be caused by a number of factors, including the basics: not getting the bath up to temperature before turning on the machine; pushing the bath past the soil load it can reasonably handle; equipment that needs to be cleaned; and so on
But over the past few years, customers have been experiencing foaming problems that are not caused by these easy-to-remedy factors. Ironically, this trend is being driven by an overall effort to make the world a cleaner place: the sustainability movement, which has led to the introduction of both bio-based cleaners, such as Armakleen's Bio24 aqueous solution, and "green" greases and oils. When these new chemistries interact with traditional petroleum-based surfactants, the potential for foaming is significantly increased.