The Importance of NSF Certification
Featured Product from Armakleen Company (The)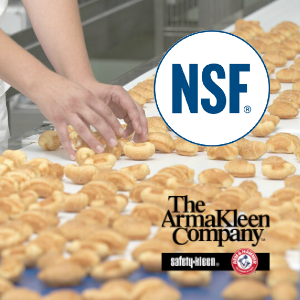 One of the most critical elements, and challenges, for the food and beverage industry is creating and maintaining a clean, safe, and sanitary environment for producing consumable products. According to the U.S. Centers for Disease Control and Prevention, 48 million people in the U.S. contract a foodborne illness each year. While there are a variety of factors involved in this, failing to properly sanitize food processing facilities and equipment can be a leading contributor to this issue. Businesses must ensure that they are using safe, effective, and compliant cleaners in their sanitation processes to reduce and eliminate the risk of producing unsafe products for consumers and retailers.
Early on, the U.S. Department of Agriculture (USDA) helped food processors by creating the nonfood compound registration program for certifying cleaners to meet the stringent requirements necessary for the food and beverage industry, but in 1998 they discontinued their program.
… the National Sanitation Foundation (NSF), created in 1944, stepped in to take over the nonfood compound registration program in 1999. Like its governmental predecessor, the NSF offers a variety of certifications used to classify cleaning agents, designated for food contact surfaces. The NSF has become the global leader in food safety product certification and is recognized by the U.S. Food and Drug Administration (FDA), the U.S. Environmental Protection Agency (EPA), and the USDA.