HumidiPack® Steam Humidifier Systems
Product Announcement from Armstrong International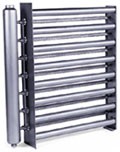 A prefabricated steam humidifier system, the Armstrong HumidiPack® comes ready for insertion into the duct. It consists of a separator/header and multiple tube dispersion assembly when supplied for use with Armstrong steam generators. For use on pressurized steam, included are steam control valve, strainer, steam trap and a header drain trap.
The HumidiPack accepts steam, separates entrained moisture from it and admits it into a duct or air handler airstream via the dispersion tube. It does all of this while simultaneously reducing the moisture non-wetting distance when compared to traditional humidifiers. Why is this important?
When "dry" steam is discharged into duct air it instantly condenses. The resulting water droplets are entrained in the airstream until they can be absorbed (evaporate) by the air. The distance traveled by the water droplets in the airstream depends on a number of factors, including the design of the dispersion system. If the water droplets hit an obstruction in the duct (turning vanes, coil, fan, filter, sensors, etc.) before the evaporation occurs, the water will impinge on the obstruction. In other words, the obstruction acts as a separator and will remove the water droplets from the air. The water removed from the air will accumulate on the obstruction and in the bottom of the duct resulting in stagnant water, corrosion, and IAQ concerns. Thus proper allowance in the duct for the "non-wetting distance" is an important issue in the design and installation of steam humidification equipment. Shorter "non-wetting distances" simplify the job of the design engineer by allowing proper placement of temperature and humidity controllers and other components without fear of inaccurate readings or moisture-damaged equipment.
HumidiPackPlus™ combines a shortened non-wetting distance with steam-jacketed "active" tubes. The result is a dry, uniform discharge of steam for nearly any application with a steam source from a pressurized central supply.
HumidiPack and HumidiPackPlus steam humidifier systems and includes a complete discussion of impingement distance, capacities, selection/ordering information, control valve selection, dimensional drawings/physical data and installation facts. To download, click on the line below.
---