New LIV Laser Diode Test System
Product Announcement from Artifex Engineering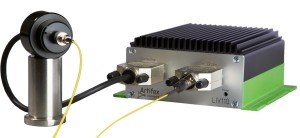 We have introduced our new LIV120 laser diode characterization instrument, which is a CW/QCW tester for LIV and spectrum of packaged laser diodes, SLEDs and LEDs. This compact unit can be mounted in testing machines or used in a laboratory environment. Full LIV sweeps of up to 4000 currents can be performed. A measurement sweep with 1000 currents takes about 1s to execute including data downloading to the control computer.
The LIV120 incorporates useful setup features allowing a wide range of testing applications such as:
low duty cycle pulsing
QCW operation
true CW operation
hard pulse testing
soft pulse testing
burn-in and lifetime testing
The graphical software is clearly organized and gives immediate quality information via the user-programmable pass-fail selection.
For further information or a quotation, please contact Mr. Rolf Jaspers.
---