Handy assortments of Shims
Featured Product from Artus Corporation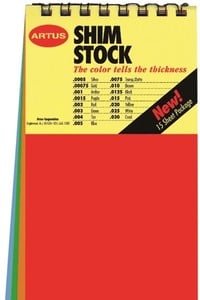 Handy assortments - "The Color Tells The Thickness"
Artus color coded plastic shim stock assortments are the handiest thing in your shop. These spiral bound books allow you to easily separate a single sheet from the pack while still attached to the pack.
Artus also manufactures shim stock in color coded aluminum, brass, carbon steel and stainless steel
To learn more about shim material options, please visit the shim pages listed here:
>>>>>Plastic and Aluminum Color-Coded Shims Fill the Gap
Sometimes the smallest parts of a complex system can play an outsized role in its proper functioning. Such is the case with shims, which are thin pieces of material primarily used to fill unwanted gaps. Shims ensure the efficient and effective operation of machinery by fixing angular misalignments between rotating components in equipment such as pumps, compressors, generators, engines, turbines and gearboxes. Shims compensate for parts with poor tolerances, ensure level mounting, create level surfaces and can even be used as wear parts between mating surfaces...read more....
>>>>>The Right Shims for the Right Applications
Mechanical assemblies need precision to function and endure. Sloppy design practices using lower-cost, shoddy components and out-of-date manufacturing and testing can lead to failures, unexpected costs and even safety concerns. The proper specification, selection and use of manufactured parts for initial assembly as well as service all contribute to a mechanical product living up to and beyond its rated longevity....read more...
The Artus Corp. - Quality Shims and Shim Stock Since 1941
Dedicated to Quality, Committed to Service. Quality is what attracts customers. Service is what keeps them. Both have been Artus mantras from the company's beginning at the end of World War II to the present. Much of Artus business is custom manufacture, working to specs of thousandths of an inch. No room for error. Quality here is precision plus.
Artus service is attentive, responsive, helpful. From returning phone calls to solving design problems. Our sales and technical people are on call at your request. Reach us by phone, fax, or e-mail. Want a quote? We do them without charge or obligation. We will need your specifications, so be prepared when you call.
To learn more about shim material options, please visit the shim pages listed here: