Plastic Shim Stock Assortments Shipped in 24 Hrs!
Featured Product from Artus Corporation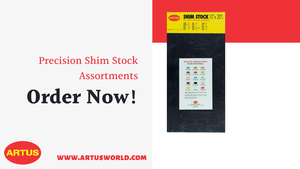 Artus Corp. offers the highest quality plastic shim stock. The stock is remarkably durable, rust-proof, non-hygroscopic, impervious to oil, and above all, economical.
Shim stock is color coded by thickness for easy identification. Light and pliable, Artus color coded plastic shim stock can be easily cut into the shims and gaskets you want and the exact specs you require, using a ruler, diver, and ordinary scissors.
Assortment Kits are stocked in Standard Sheet Sizes: 5×20, 10×20, 12×24, 20×20, 20×50, 40×50 inches.