Shims for Extreme Heat and Pressure
Featured Product from Artus Corporation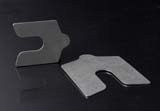 Stainless Steel Shim Stock
Artus Corp. offers the highest quality stainless steel shim stock that ensures reliable, consistent performance under pressure. Produced in 8x12 inches flat sheets, our stainless steel shim stock is safer to handle because it won't dangerously uncurl as rolled stock does. Easy to cut into smaller pieces, the material also provides you with reduced waste and enhanced economy.
Convenient Ordering Options:
Assortment Packages in 10 sheets of assorted thicknesses, .001-.020 (see thickness chart) and are stocked in flat, Standard Sheet Size of 8x12 inches
Single Thickness Packages: 10 sheets of any one thickness in flat, standard sheet size of 8x12 inches
Custom Sheet Sizes: up to 24x36 inches
Specifications: Stainless Steel 300 Series Alloy
The Artus Corp. - Quality Shims and Shim Stock Since 1941
Dedicated to Quality, Committed to Service. Quality is what attracts customers. Service is what keeps them. Both have been Artus mantras from the company's beginning at the end of World War II to the present. Much of Artus business is custom manufacture, working to specs of thousandths of an inch. No room for error. Quality here is precision plus.
To learn more about other shim stock material options, please visit the shim stock pages listed here:
For shim, shim stock, gasket, & slitting products and services, call Artus Corp. (201) 568-1000
Or Use Our Online Form