Case Study: Thermoplastics - Aquaculture Farm
Featured Product from Asahi/America, Inc.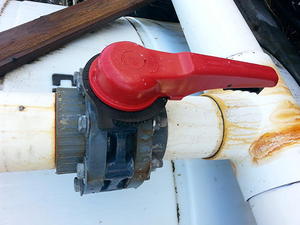 Abalone is considered a seafood delicacy in many countries. When raised on an aquaculture farm, they receive a constant supply of pure, cold, nutrient-rich seawater they require via life support systems consisting of valves and long runs of pipe. The valves are used for shut-off purposes for the abalone's holding tanks, life support filtering beds, and the associated feeding pipeliline.
While abalone may thrive in saltwater, it's a harsh environment for metallic valves. A western US aquaculture farm was experiencing widespread issues in their pipelines due to corrosion. The metallic butterfly valves were seizing; their stems shearing; and handles and discs breaking. Rust particles were traveling in the pipelines, constantly causing contamination and blockages in the saltwater feed lines. Asahi/America's Type-57LIS butterfly valve was the ideal solution for replacing the corroded metallic butterfly valves because both valves have identical face-to-face dimensions.