Easy to use 500 VA Power Converter
Product Announcement from Associated Power Technologies, Inc.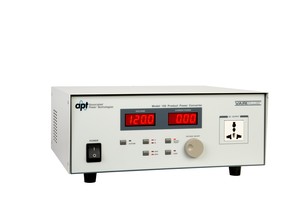 The APT VariPLUS Model 105 is a 500VA power converter specifically designed for electrical product manufacturers. The VariPLUS allows manufacturers to fully comply with international safety agency standards during routine production line testing without the need to purchase an expensive AC power source.
The VariPLUS utilizes accurate digital metering, safe high speed shut down circuitry, and an easy-to-use interface that will increase efficiency and improve performance on the production line. For manufacturers looking to sell products abroad, the VariPLUS can output voltages at both 50 and 60 Hz with the push of a button.
VariPLUS Benefits
Isolated Output
An isolated output ensures that the power provided to the DUT is free from distortion, voltage spikes or other transients that can occur on the mains-input lines. Isolation also prevents erroneous readings from occurring during Line Leakage testing.
Push Button Interface
The easy-to-use push button interface allows the operator to easily switch between 50 and 60 Hz output frequencies, view voltage, current, and power information, as well as set voltage limits.
Digital Rotary Knob
The digital rotary knob allows you to ramp up the output voltage smoothly and uniformly with your index finger.
Front Panel Lockout
The front panel lockout prevents damage to the DUT and reduces operator error by locking out the front panel during testing.
Voltage and Current Limits
Voltage and current limits prevent dangerous over-voltage or over-current conditions that can harm the DUT.
Output/Reset Key
The Output/Reset key maximizes operator safety by enabling and disabling the output voltage with a simple push button.
smartVOLT™
smartVOLT™ allows the operator to configure the instrument to power up at 0 volts or the previously used voltage before the instrument was turned off.
High Speed Shutdown Circuits (OTP, OCP, OVP)
These factory-programmed shutdown circuits prevent harm to the instrument, DUT, and test operator.
Still not sure? - Associated Power Technologies offers guaranteed in-stock delivery, a 2-year warranty standard and much more!
Manufacturer's everywhere are discovering the Power of APT's Value!
---